How to start your own art collection? Get on down to Art On A Gallery & Boutique on Avenue A in the historic East Village. They have different artists from very famous to lesser  known, but always with an edge. So pick up a piece or two of something you really like from around $20+ and you could end up with museum quality collection in a few years time. Just remember, follow your instincts… get stuff you really like, no other reason.
This place might be one of the last bastions of East Village cool.
Raising the bar, this year's show really kicked ass.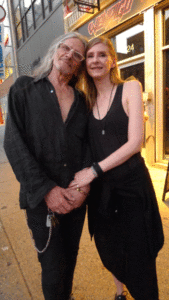 Robert Butcher and his lovely lady Kristine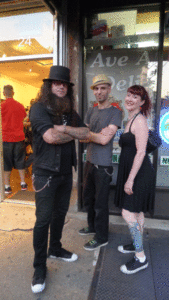 Gang of 3 – Joff Wilson (Bowery Boys) with some booty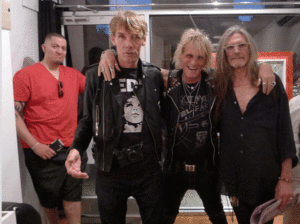 'The Boys are Back in Town' Dustin Pittman, Jimi Webb & Robert Butcher – Hey, and there's Joey in the back!

Crazy Glenn Wernig & Deborah Creighton
Arlen Schumer coolest comic art historian in the city!
Luke Ale
Deborah Harry, Boy George, Lady Bunny by Guy Furrow
Oh, now this was really cool little sculptures by Eli Livingston "Cherub" & "Manvil"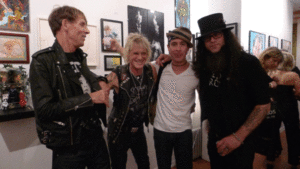 Reiko Lauper's "Motorhead Expedition"
The beautiful people Stephen Sanchez & babe – Joseph Alvarez
 Jenny Gonzales Blitz
 Aaron Howard
Ville Juurikkala's prints on metal
Rik Rocket's beautiful motion pictures.
Get on over to www.artonagallery.com